The third episode of the Science from the Eagle's Nest webinar series happens on November 25, 2021 at 2:00 PM to 4:30 PM. It will feature the Mindanao Renewable Energy R&D Center (MREC), an S&T research center hosted by the Ateneo de Davao University.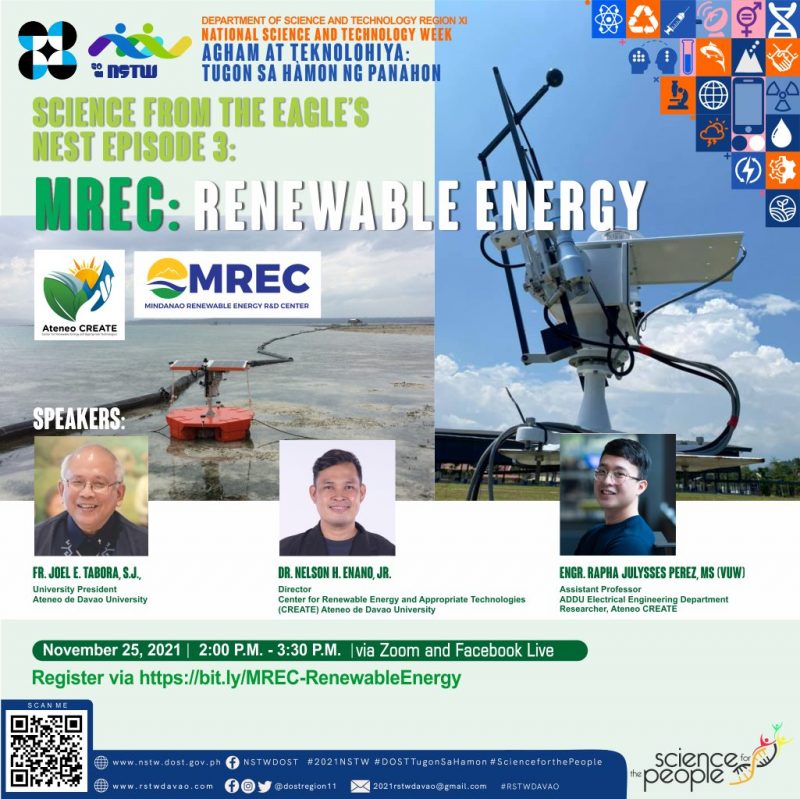 Know more about its efforts and initiatives with the following speakers:
Fr. Joel Tabora SJ
ADDU President
Dr. Nelson Enano, Jr.
ADDU CREATE – Center for Renewable Energy and Appropriate Technologies Director
Engr. Rapha Julysses Perez, MS
Assistant Professor and Electrical Engineering Department Researcher
This webinar is free and open to all. Register now through: https://bit.ly/MREC-RenewableEnergy
The Science from the Eagle's Nest is a series of webinars featuring unique S&T programs and services in Davao Region. It is part of DOST Davao's celebration of the 2021 National Science and Technology Week (NSTW).