Application for AdDU Scholarships for the First Semester SY 2022-2023 will be accepted from April 1 to May 15, 2022.
GRANT-IN-AID PROGRAM
Grant in Aid (GIA) program is available for applicants with academic ability and proven need for financial assistance. Financial assistance under GIA takes various forms. The College Scholarship Committee will look over the submitted documents and determine the amount of financial assistance to be granted.
Grant-in-Aid Scholarship Application – https://bit.ly/SY22AppForm
Applications will be accepted from April 1 to May 15, 2022.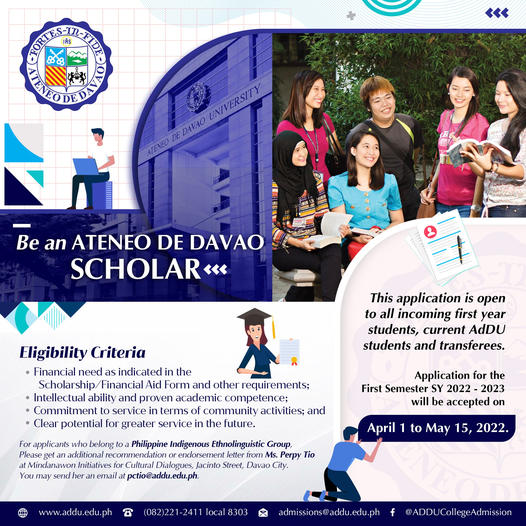 VALEDICTORIAN-SALUTATORIAN GRADUATES
The JUBILEE SCHOLARSHIP FUND (JSF) program is available for applicants who recently graduated as Valedictorian and Salutatorian (minimum of 80 graduates) from Senior High School.
HOW TO APPLY:
For applicants who wish to apply for the First Semester, SY 2022 under the Valedictorian and Salutatorian grant (JSF), kindly PREPARE the following documents:
1) Certificate from your High School Principal certifying that you are the school Valedictorian or Salutatorian and indicating your number of graduates.
2) A clear photo or copy of your Senior High School Report Card (with Complete Grades)
3) A maximum of 500-word essay (in a PDF format) that answers the question: What best and worst part did you learn about yourself and others during the pandemic?
Once you have prepared your application documents, fill out and submit it to this link: https://bit.ly/JSFApp22
DEADLINE OF SUBMISSION will be on May 15, 2022. Application with incomplete documents will not be processed. Please make sure to check your emails regularly for any questions or clarifications of your application.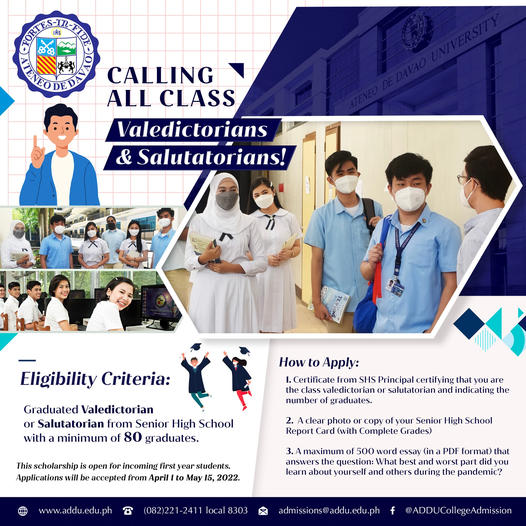 STUDENT ATHLETES
Pilipinas Obstacle Sports Federation will be providing full athletic scholarships for Ateneo de Davao students.
Eligibility Criteria
✅ A cumulative high school point average of 85%.
✅ Concurrently not a recipient of any major scholarship or financial aid.
✅ Total family income not exceeding P200,000 for a family of five (5).
✅ Must be engaged in athletics, rock climbing, Crossfit, endurance sports, or a similar sport.
APPLY HERE: https://bit.ly/OSFAppForm
This scholarship program is open for incoming and current students. Applications will be accepted until May 15, 2022.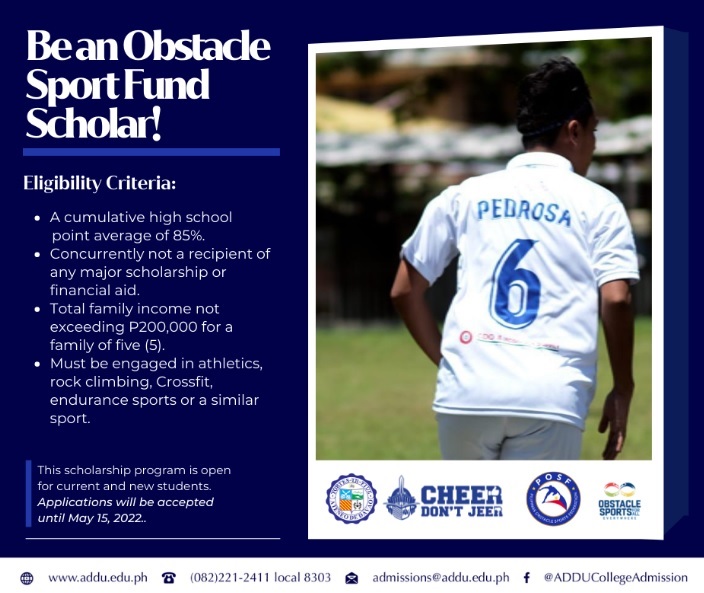 For more information, send us a message at facebook.com/AdDUCollegeAdmission or email us at admissions@addu.edu.ph.
Be among thousands of Ateneo de Davao scholars! Apply now!💙
Text and Images: Ateneo de Davao – College Admission and Aid