Ateneo de Davao University ranked SECOND in the January 2022 Architecture Licensure Examination for the category 50 or more examinees, with a passing performance of 82.69% among all participating schools, colleges and universities.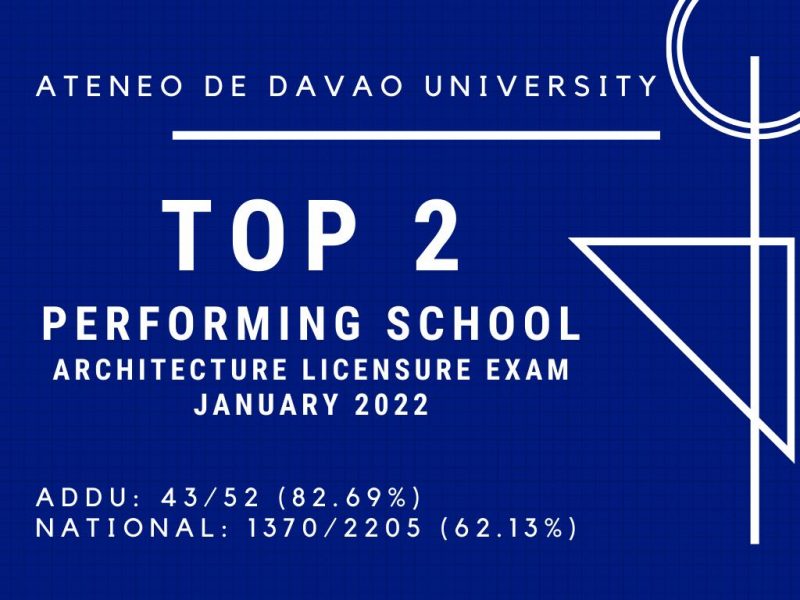 The new AdDU Architects are:
Pauleen Anne D. Abellana
Michelle F. Ah
Angel Mae S. Amador
Glicel Joyce A. Amigo
Hershey Glee D. Bocala
Serge Russel C. Calumpong
John Micolle C. Catayas
Raphael D. Chicombing
Ristey Loid N. Columbrillo
Sheanne Marie D. Concepcion
Benette Roi A. Crieta
Mikaela L. Diosana
Katrina J. Endaya
Remilou D. Ferniz
Veronica May V. Ferraris
Carlo Celso B. Fuego
Erika Tiffany L. Go
Krista Anne L. Go
Yancee Evans C. Go
Czar Gabriel D. Gupeteo
Jose Angelo P. Gutierrez
Rugette Mae D. Jaraplasan
Michelle B. Jaurigue
Laine Andrei B. Lamban
Cristine Aira C. Lor
Karla Quennie B. Magno
Alexandra B. Malcampo
Andrea Beatrice A. Miclat
Kathleen Ann J. Montilla
Kahlil Don D. Pagusara
Josah Marie V. Pesaña
Claudine Ann B. Piel
Kaye Anne G. Reyes
Joshua Carl L. Riveral
Pryncesse R. Salcedo
Fatima Faye B. Sanchez
John Brandon T. So
Vanessa D. Sta. Cruz
Stephen Jake S. Tac-an
Angela Joy R. Tagaro
Grechen Lynn B. Villaflor
Nikko D. Zamora
Stella Maris Jacinto
Congratulations to the successful examinees, and to the administrators, faculty and staff of the School of Engineering and Architecture and the Architecture Department!